Een krachtige IT-alliantie!
Bij CARD vindt u alle diensten op het gebied van IT onder 1 dak. CARD IT-Support, CARD Services én CARD Solutions hebben elk gespecialiseerde IT-consultants, technici en ontwikkelaars om te doen waar ze goed in zijn; Uw IT-zorgen wegnemen! Lees hieronder meer over de kracht van elke afdeling binnen de CARD Groep.

WEB, FILEMAKER & SOFTWAREONTWIKKELING
CARD Solutions is sinds 1997 actief op gebied van websites, FileMaker en Cloud oplossingen. Wij zijn lid van de FileMaker Business Alliance en naast het ontwikkelen van (op-maat-gemaakte) diensten en producten worden er in onze research- en developmentafdeling producten ontwikkeld.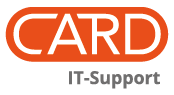 IT-CONSULTANCY,
BEHEER EN SUPPORT
CARD IT-Support is uw betrouwbare IT-partner voor zowel Mac als Windows IT-omgevingen. Voor vernieuwing en beheer van uw zakelijke IT-netwerk, werkstations, servers en cloud omgeving. Onze Microsoft en Apple gecertificeerde technici en consultants schakelt u in voor advies bij vraagstukken en de realisatie van uw wensen.
Samen vormen wij de CARD Groep, uw partner voor totaal oplossingen bij IT-vraagstukken!

Vraag om advies, meer informatie of een vrijblijvende offerte via onderstaande formulier of bel ons!