Beheer en Support voor uw IT-omgeving!
De IT-omgeving is het hart van uw organisatie, door het beheer aan een betrouwbare IT-partner uit te besteden houdt u uw IT-omgeving in topconditie. Tevens moet u bij calamiteiten kunnen rekenen op snelle support. U kunt CARD IT-Support inschakelen voor deze Beheer en Support diensten.
Standaard oplossing of maatwerk, in overleg is alles mogelijk. U maakt uw wensen kenbaar, wij doen u een scherp voorstel!


"Haal IT-kennis in huis zonder hoge kosten van een eigen IT-afdeling"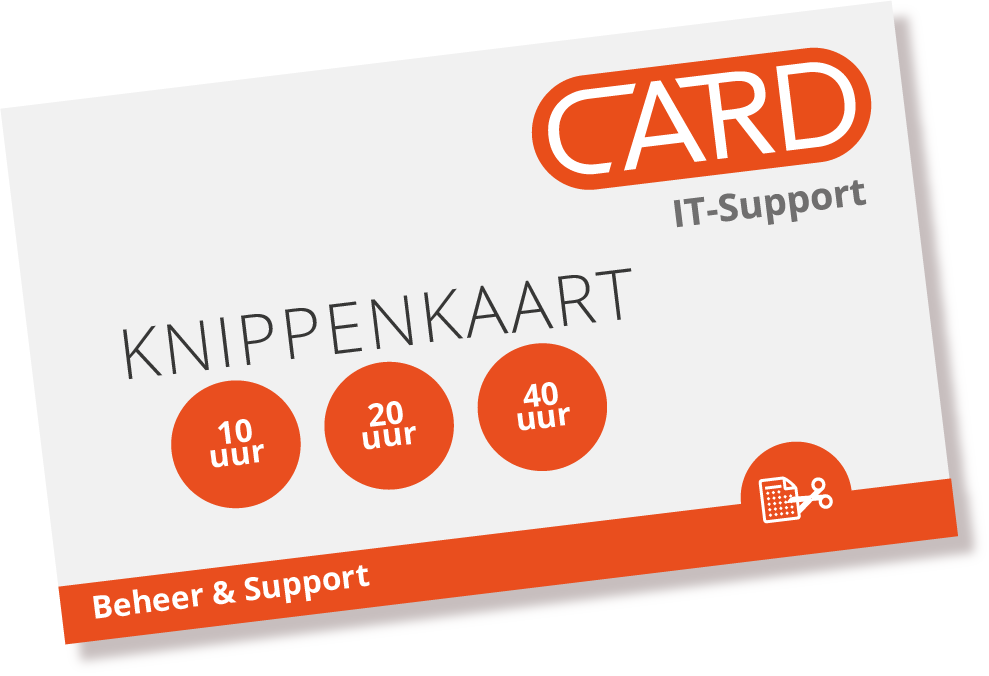 VOORAF VOORDELIG BEHEER & SUPPORT UREN INKOPEN
Met de Knippenkaart koopt u vooraf voordeliger support uren in met een vastgestelde responstijd. U kunt bij calamiteiten direct uw problemen aan ons voorleggen en wij pakken uw ticket binnen de vastgestelde responstijd op. De uren die wij voor u maken, worden achteraf van uw Knippenkaart geknipt. U kunt een 10, 20 of 40 uurs Knippenkaart bij ons aanschaffen.

Vraag om advies, meer informatie of een vrijblijvende offerte via onderstaande formulier of bel ons!